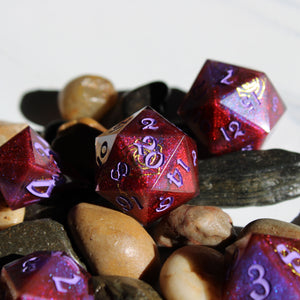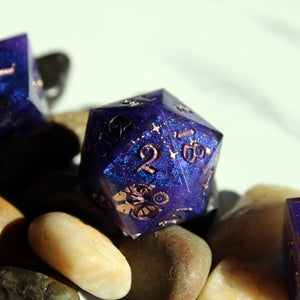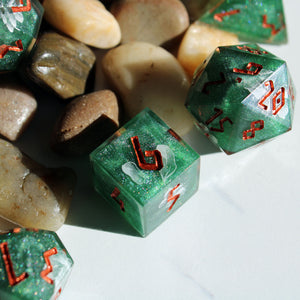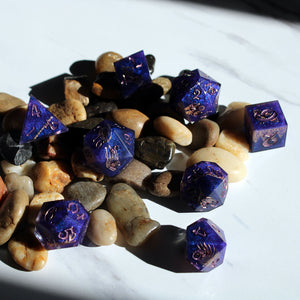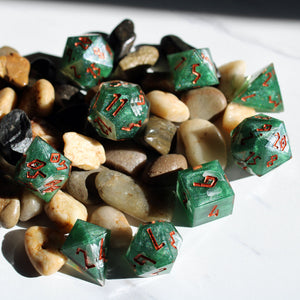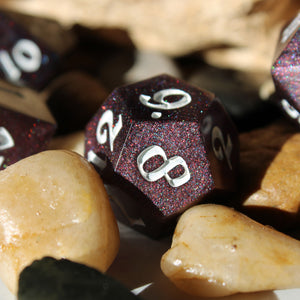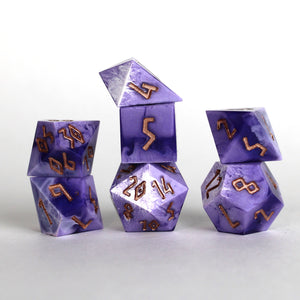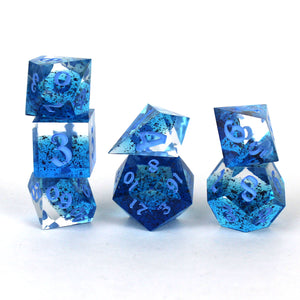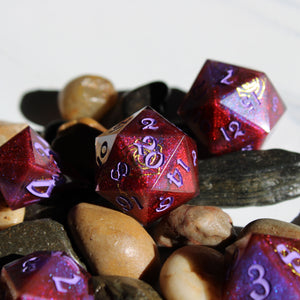 Read Carefully! 

Let's make dice together! 
Once one of these options has been selected and purchased, you'll go into our Custom Dice set queue. You'll receive a confirmation email letting you know where you sit in the Queue, along with a link to a survey.

This survey will help me figure out what kind of dice you want to make! If you have something very specific in mind, you can share it there, or if you simply want to share some inspiration, and let me run wild, we can do that, too! Photos are helpful, but by no means required.
You'll receive step by step updates via e-mail about how your dice are going, until the final product is shipped out to you. The expectation is that this process lasts no longer than 3 weeks- however, if that timeline needs to be extended, you will be consulted beforehand. 
-Diana
This dice set includes: 2d20, 1d12, 1d%, 1d10, 1d8, 1d6, 2d4 (shard and pyramid)
If you are looking for a set of Vampire dice- They will be available beginning in October of 2022, do not purchase a custom slot here.

Customizable options:
-Color Combination
-Font (ancient runic, or fantasy gothic)
-Opacity
-Inclusions (glitter, shimmer, flowers, feathers, etc.)
-Decals and designs (double cast/shelled dice ONLY)
Intricate designs with complicated inclusions will likely have additional charges- these will need to be paid as a separate invoice sent to you before shipment occurs.
Have concerns about buying handmade dice? Check out our Dice FAQ to rest easy!