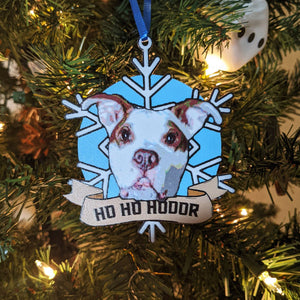 Enjoy your holidays with the BnB fam, by bringing home your very own Hodornament!
These UV printed MDF ornaments measure 3.5 inches across. Printed by our friends at Foam Brain Games!
Partial proceeds benefit Mended Hearts Rescue.
Hodor on our tree!
A Christmas tree should be decorated with representations of all the meaningful things in life, and what could be more meaningful than your dog? Hodor is such a GOOD BOY!