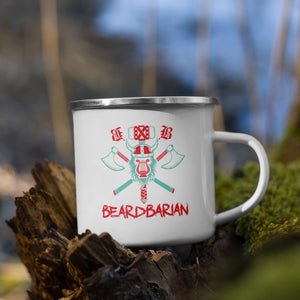 Do you have a beard? Are you a Barbarian? Do you PLAY a Barbarian who also has a Beard? The possibilities here are endless.

Enjoy the beverage of your choice from a mug that lets others know; "Hey, I like beards and barbarians!"

• Material: Enamel
• Dimensions: height 3.14″ (8 cm), diameter 3.25″(8.25 cm)
• White coating with a silver rim
• Hand-wash only
• Blank product sourced from China

Attention! Don't heat liquids or food directly in the mug—it can damage the coating.