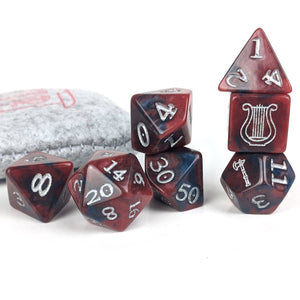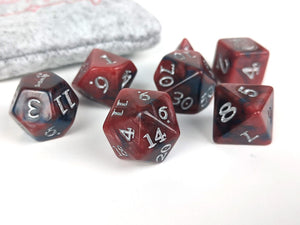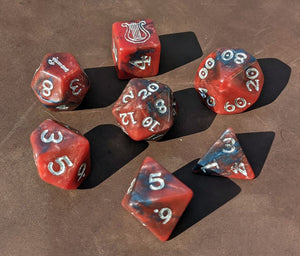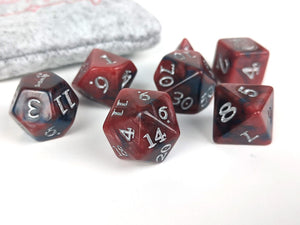 Reckless Inspiration Acrylic Dice set
Roll with advantage! The Bard and Barbarian Acrylic dice set guarantees you'll roll with all the luck Diana and Justus have to spare! (our bad)
Each set is a pearlescent mixture of navy and oxblood, with custom Axe and Lyre symbols on your D12 and D6 to show off your bard, or barbarian side as need be. They come in a custom printed zipper pouch to keep them nice and safe.
Name courtesy of @jays_cave on twitter.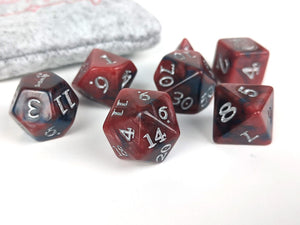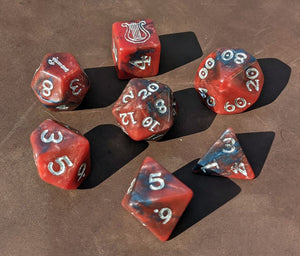 Great Dice
Love these dice. The colors are great, they are very readable, and they roll very smoothly.
Beautiful!
I love these! Great feel, beautiful colors, and excellent font choice. The pouch is a really nice addition and keeps my dice safe 😊
Awesome Dice!
The dice are beautiful! These sets are gonna be great gifts for my D&D group! Fast shipping, excellent company! Will be buying more merch in the future!
Quality Click Clacks!
Just like all the other things I've gotten from B&B, these dice are PERFECTION. Not only are the colors rich and deep, but the symbols on the damage dice are a genius touch. They feel and roll great— and they're gonna be my fighter/barbarian's go to dice!